InfyTQ App | Infytq registration | Infytq exam and questions | Infytq login
InfyTQ Infosys Certification Exam 2022-23: The Final year students, who have completed graduation are eligible for the InfyTQ Infosys certification exam 2022-23. Graduate and Post-Graduate students ( BE / BTech / ME / MTech / MSc / MCA) are eligible to apply for the InfyTQ Examination 2022-23. After successfully clearing the exam, students will get employment opportunities to attend the campus drive and be selected at the System Engineer Post.
Infosys has made official announcement for the InfyTQ Certification Exam for Batch 2023. The Registration Process for InfyTQ 2022–23 is going to start soon so it will be better for you to know the details before it sets off.
Certification and Recruitment Possibility for Graduates and Post Graduates
Infosys has started the InfyTQ portal for the applicants who are studying in the final year. InfyTQ is a certification program where students can register and get an Infosys certificate which will help them to select as a System Engineer in Infosys Company. the online portal of InfyTQ contains various courses in Database Management, Programming, Behavioral Skills, etc. InfyTQ is a program where applicants can register themselves and get Infosys certified. This InfyTQ certificate will help them to get a job as System Engineer in Infosys Company.
Registrants signing up on the program will get access to proprietary resources to accelerate learning, and deploy the knowledge gained on live projects. The programs will be granted free to students and colleges. Candidates from B.Tech/BE, M.Tech/ME, and MSc/MCA from all the departments are eligible for the Infosys certification exam/test. Applicants who clear the examination will get an opportunity to attend the Infosys off-campus drive and will be appointed as System Engineer.
The test results of InfyTQ will be shown on the test screen and you will receive a soft copy of the certificate to your registered Email-ID as well. If a candidate scores more than 65% on the assessment test you will be eligible for the interview. It will be organized at the same center where the certification test is held. You should have cleared all exams while giving interviews at Infosys with 65% plus in all your educational academics (no backlogs are allowed).
Highlights of InfyTQ Registration Process 2023
InfyTQ Exam
Information
Batch
2023
Degree Holders

B.E.,
B. Tech,
M.E.,
M. Tech,
MCA,
MCM, or M.Sc

Mode of Exam
Online (Remote)
Cut off
65%
Registration Starts on
To be Announced
Infosys certification exam Call Letter
Seven days before the certification exam, the hall ticket will be announced on the Official Portal of Infosys. Students must be students of Bachelor of Engineering, Bachelor of Technology, Masters of Engineering, and Master of Computer Application, graduating in 2022-23. Once you successfully qualify for the Qualifier Round with at least e 65% marks, the student will get Infosys Certification and will be eligible for the Infosys job interviews.
Infosys Certification Qualifier Round 2022-23
Infosys held the "InfyTQ Certification exam for Certification Round/Qualifier Round" as the screening exam for the InfyTQ Final Round also known as Advantage round. It is compulsory to qualify for the Qualifier Round as without qualifying students will not be able to attempt the final round. Students have access to choose the date & time of the exam as per their convenience while the registration process of Qualifier Round.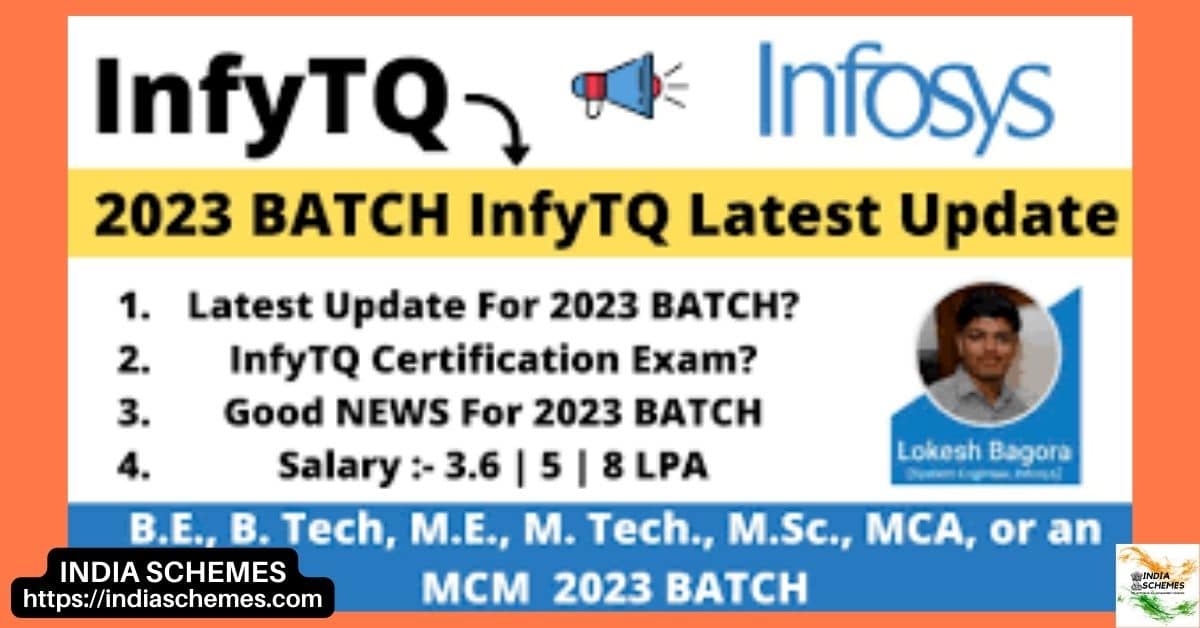 Students can give the InfyTQ Certification exam from anywhere they just need a computer system with a web camera as the online examination will be web-camera proctored. The Qualifier Round exam of InfyTQ Certification consists of 40 multiple-choice questions to be answered in 60 minutes. For each correct answer, you will be provided 1 mark and for each wrong answer, 0.25 marks will be deducted.
Also, Read
Infosys Certification Final Round 2022-23
Students who will qualify for the "Infy TQ Certification exam Qualifier Round" will be able to attempt the "Infy TQ Certification exam Final Round". The motive behind the Final Round of Infosys Certification is to further test to check the knowledge of Programming and Database Management. the Final Round of Infosys Certification will be handled online and will be Web-proctored. All qualified students will receive an email for the Advantage round/Final Round exam.
InfyTQ Exam Pattern:
The InfyTQ test by Infosys has two areas and the duration of the test is 3 hours.
One of the areas is an OBJECTIVEsort that contains 20 questions and the other is Hands-On Coding that contains 2 questions.
The 20 questions in the OBJECTIVE will be of Multiple Choice Type.
Expect that the questions will test information on Object-Oriented Programming(OOPs), Data Structures, Data-Base Management systems (DBMS), Structured Query Language (SQL), and Python.
The second area on composing a CODE has two issue articulations that should be tackled utilizing Python 3. x programming
The questions are the overall ones. One can get to plenty of inquiries on the Programming Hub, ConduiraOnline.
There is no Negative Marking in the InfyTQ test.
How the code gets assessed is known distinctly to Infosys.
Step-Wise InfyTQ Registration For 2023
You just need to follow the step-by-step process correctly to register yourself for InfyTQ Certification 2022-23.
Visit the InfyTQ Portal.

Click on the "Register" button.
You can REGISTER YOURSELF WITH FACEBOOK or GMAIL. Fill out the form correctly.

If you are registered then you can continue directly by InfyTQ Login.

Verify your email.
Read the instructions and mark the checkbox to agree.
Complete your profile by filling in your personal details and academic details.
Click on the "Submit" button.
Select the "Programs" option from the top left menu.
Click on the "Infosys Certification" page given under the 'Programs' section.
Click on "Register Now" after reading the instructions.
Enter and verify the details carefully then click on 'OK'.
Finally, you're registered for the InfyTQ Exam, Now you can book your "Slot" for the exam.
Book your slot and choose your preferred "programming language" (i.e Java or Python) carefully.
Re-check your selection before approving as after authorized, the slot and preferences cannot be changed
Voila! You have successfully completed the InfyTQ registration process.
Download InfyTQ App for PC
InfyTQ app has been created by Infosys IT Mobile Apps. This is outstanding amongst other applications with a clean UI in the Business category. It is presently available to download on your PC using Android emulators. We have mentioned a definite manual for downloading InfyTQ for PC using two of the best emulators. Bluestacks is the most trusted and well-known Android emulator accessible for Windows and Mac platforms. This app is acquiring huge popularity because of its lightning speed. Bluestacks is the favored method to install applications with numerous graphics.
How to prepare for InfyTQ Exam?
After knowing about the InfyTQ Exam and the eligibility criteria, the next thing you are looking for surely be the Exam preparation Process.
From this year, Infosys has made some improvements in the InfyTQ Exam Process. Unlike the earlier year, a Qualifier Round (or you can say it a screening test) has been presented during the current year. After passing Qualifier Round, you will be permitted to take Final Round. Further, at that point, you will become eligible for a prospective employee meeting at Infosys (after the qualifying final round).
1. Qualifier Round
Infosys presented the 'Qualifier Round' as the evaluating test for the InfyTQ Final Round. It is compulsory to attempt and clear the Certification Round/Qualifier Round as without qualifying it you won't endeavor the last round. You can choose a date and time allotment for accepting the assessment according to your reasonableness at the hour of enrollment for the Qualifier Round. You can endeavor the test from any place and from any framework given it has a web camera as the online assessment will be web-camera delegated.
The Qualifier Round of Infosys Certification comprises 40 various decision inquiries to be replied to in an hour. For each right answer, you will be given 1 imprint and for each off-base answer, 0.25 imprints will be deducted.
The Qualifier Round of Infosys Certification is isolated into 3 areas:
Java/Python: 20 inquiries (You can choose between Java and Python at the hour of booking an opening for the Qualifier Round.)
DBMS: 10 inquiries
Fitness: 10 inquiries
2. Last Round
The individuals who will meet all requirements for the 'Qualifier Round' will want to attempt the 'Last Round'. The target behind the Final Round of Infosys Certification is to additional test your inside and out information on Programming and Database Management. Because of the COVID-19 flare-up, the Final Round of Infosys Certification will be led on the web and will be Web-delegated. All qualified students will receive an email with the date and the ideal opportunity for the advantage Round/Final Round assessment. The Final Round comprises objective and active inquiries that are should have been replied inside 3 hours.
You need to score 65% or above in the Final Round to be qualified for a new employee screening at Infosys which is additionally led at the test community. One thing to recall here is that you can choose among Java and Python for the Qualifier Round just as for the Final Round when you are reserving a space. There are no spaces for the Final Round it is normally directed inside a month after the Qualifier Round, the subtleties of which are shared through E-mail.
The Final Round of Infosys Certification separated into 2 segments:
20 Objective Type Questions dependent on Java/Python Programming, Data Structures and Algorithms, DBMS and SQL, and OOPs Concepts.
2 Coding Questions utilizing Java/Python.
Note: There is no negative marking in the last round.
InfyTQ Test Pattern 2022-23
There will be mainly 2 rounds:-
1st – Certification Round
2nd – The Advantage Round (After clearing the certification round)
Note – If you want to avail higher salary package, then you need to register yourself for the Advantage Round after clearing The Certification Round with atleast 65% marks.
Round: 1 (Certification Round)
Section
No. of Questions
Timing
Difficulty
Java/Python

Hands-On Coding

2
180 minutes (combined)
Moderate
Java / Python MCQ
10
180 minutes (combined)
High
DBMS MCQ
10
180 minutes (combined)
High
Note – You can choose anyone between Java and Python at the time of registration for the Certification Round.
Round: 2 (Advantage Round)
| Section | No. of Questions | Timing | Marks |
| --- | --- | --- | --- |
| Java / Python Hands-On Coding (Question 1) | 1 | 180 minutes (combined) | 50 |
| Java / Python Hands-On Coding (Question 2) | 1 | 180 minutes (combined) | 75 |
| Java / Python Hands-On Coding (Question 3) | 1 | 180 minutes (combined) | 100 |
FAQ
How would I check my infyTQ Result?
To check Your Result You need to sign in to your infyTQ account on infytq.infosys.com at that point go to your Certification Tab from that point you will find the Result of infyTQ Round – 1 And last Round.
Can I Reappear for Infosys Certification Exam?
Yes, Students who have not cleared the Infosys certification exam in the 1st chance can give a second attempt after a month. If in any case, students are not able to clear the exam on their  2nd attempt then they need to wait for 3 months to reappear for the Infosys certification exam. The passing percentage for Infosys certified is 65% or above.